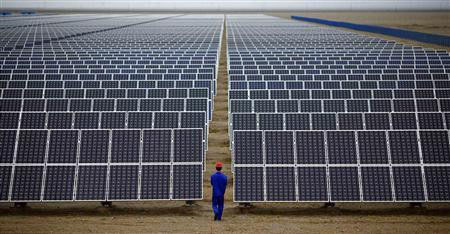 A worker inspects solar panels at a solar Dunhuang, 950km (590 miles) northwest of Lanzhou, Gansu Province in this September 16, 2013 file photo.
(Reuters) - China's solar panel makers believe they may have found a way by becoming one-stop renewable energy shops with their own solar farms.
Manufacturers of solar panels, hit hard by the scaling back of solar-power subsidies in Europe, are taking advantage of a new package of government subsidies at home and diversifying into solar-power generation.
In an apparent bid to prop up its ailing solar panel sector that has been hit by overcapacity, as well as price and trade wars, Beijing unveiled a plan in July to quadruple solar generating capacity to 35 gigawatts (GW) by 2015. Construction costs are estimated at $50 billion.
Spurred by a package of initiatives from tariffs to tax breaks, and continued low panel prices due to global oversupply, many of the country's panel makers are now looking to invest in solar farms to help return to profitability, industry officials say.
China's solar panel makers see the light, on a farm