ZIYUM Solar powered street/garden light makes the lighting easier and more scientific, our team will design the very solar system for installation local condition, with off-grid or hybrid lighting systems which is reliable, renewable and economical way to light outdoor area.
To save energy, enhance security, improve lighting visibility, solar powered lighting is an economical and environmental choice for the street lighting, parking lot, roadway, path, campus, company, farm, rural area, billboard, bus stop, etc. With advanced LED lighting, optics and intelligent controllers, solar lights can replace the traditional street lights perfectly.
The trend of solar lighting is getting more and more populated in most of countries, especially in Africa and Mid East countries,etc where is in rich of solar resource...with technologically advanced and environmentally friendly product, our solar lights had been installed in more and more countries.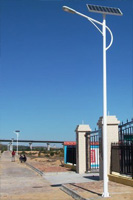 Applications for solar-powered energy saving lighting which is varied as per our customers requirements. If you need a lighting solution which shall be customized, please show us what your need; and if you have no special requirement or need us to give you the plan, they are both available. The functions on or off grid...